Settings

Settings-General

Assign open shifts only for posted schedules: this prevents required shifts, that have not been fulfilled, from appearing on the schedule calendar for an infinite date/period of time. It will only display Open Shift on posted schedule calendars.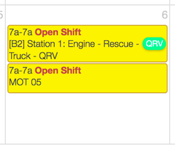 When you create a schedule grid, the system pulls in the days you are already on the live schedule and highlights those days. Also, it calculates any days in a pattern that should be showing on the schedule you just created.
Allow pattern shifts to populate schedule grid when working tells the system whether or not to place a pattern day in the grid if they are already working on the live schedule. It is mainly for people that use a separate calendar for availability. If we did NOT place pattern shifts when working, and the employee had submitted their availability for the month, it would not populate at all.
You might choose to use this feature if you have people that work at more than one location per day. Finally, you may not want those pattern days to show if they are already working.
________________________________________________________________________________________________________________
Related Articles: Member Schedule Pattern, Take Open Shift